DE BELLO CIVILI. UN'AZIONE COLLETTIVA (a group plot)
When:
25 July 2016 @ 19:30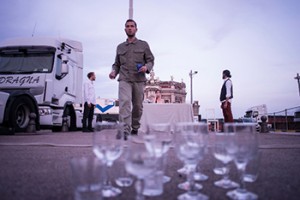 ADRIANA FOLLIERI/MANOVALANZA
DE BELLO CIVILI. UN'AZIONE COLLETTIVA  (a group plot)

directon Adriana Follieri
visual Davide Scognamiglio
drama ManoValanza
with the large contribution of chorus and all the people who sent text, pictures and others research materials by means of Facebook group DE BELLO CIVILI – a research of MANOVALANZA
with Hugo Fonti, Fiorenzo Madonna, Valerio Pietrovitaand all the chorus of citizens
artistic cooperators Claudio D'Agostino, Dora De Maio, Antonella Ippolito, Davide Scognamiglio, Carolina Truzzi
sound and video documents Giuseppe Riccardi
curator Anna Calise
production MANOVALANZA
project winner of Teatri Peregrini 2016 award

Citizens call

Everyone who wants take part of group plot has to bring a coffee cup, a tea spoon and wear white dresses.
TEATRO PERSIO FLACCO, VOLTERRA
July 25th 2016 -7.30 p.m.