SANTO GENET
When:
21 July 2014 @ 15:00 – 17:00
SITE-SPECIFIC FOR VOLTERRATEATRO (THE WOUND)
VolterraTeatro/Carte Blanche-Centro Nazionale Teatro e Carcere – Tieffe Teatro Menotti – Comune di Volterra – Regione Toscana – Provincia di Pisa – MiBACT-Ministero dei Beni e delle Attivita' – Culturali e del Turismo – Ministero della Giustizia Casa di Reclusione di Volterra – Fondazione Cassa di Risparmio di VolterrA
national premiere
Compagnia della Fortezza
SANTO GENET
ispired by the work of Jean Genet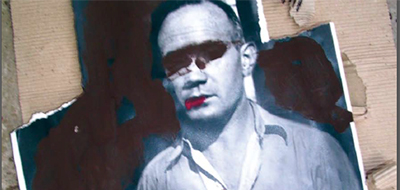 written and directed by  Armando Punzo
scene Alessandro Marzetti, Silvia Bertoni, Armando Punzo
costumes Emanuela Dall'Aglio
music and sound design Andrea Salvadori
director's assistant Laura Cleri
movements Pascale Piscina
director's assistant Alice Toccacieli
video Lavinia Baroni
set designer'ss assistant Yuri Punzo
dramatist cooperators Giacomo Trinci, Lidia Riviello
artistic cooperation Daniela Mangiacavallo, Pier Nello Manoni, Luisa Raimondi, Marco Mario Gino Eugenio Marzi, Marta Panciera, Elena Turchi, Adriana Follieri, Francesco Nappi, Debora, Mattiello, Carolina Truzzi, Francesca Tisano, Alessandro Fantechi
voluntary assistants Gemma Salvadori, Emanuele Vignozzi
some of Mario Francesconi's work will be present on the stage
photos Stefano Vaja
general organization Cinzia de Felice
coordinator Domenico Netti
administration Isabella Brogi
organizative cooperation Rossella Menna
collaborazione amministrativa Giulia Bigazzi
technical direction Carlo Gattai, Fabio Giommarelli
light designer Andrea Berselli
sound Alessio Lombardi
with Armando Punzo
Actors of Compagnia della Fortezza (all convicts in Volterra Jailhouse) Antony Talatu Akhadelor, Pietro Giorgio Alcamesi, Salvatore Altieri, Vincenzo Aquino, Bledar Arapaj, Aniello Arena, Gaetano Arena, Yosmeri Armais Castilla, Mohammad Arshad, Antonino Arrigo, Giuseppe Calarese, Rosario Campana, Pierangelo Cavalleri, Antonio Cecco, Salvatore Centro, Ivan Cepika, Luca Coluccelli, Virgilio Cosentino, Ismet Cuka, Bardhok Cuni, Pierluigi Cutaia, Gianluigi De Pau, Fabrizio Di Noto, Fation Dine, Domenico Donato, Nicola Esposito, Giovanni Fabbozzo, Alban Filipi, Pasquale Florio, Daniele Frati, Domenico Gallo, Giuseppe Giella, Pasquale Giordano, Heros Gobbi, Domenico Grande, Rocco Grande, Nunzio Guarino, Lotfi Hajahned, Noureddine Habibi, Vladimir Ibaj, Arian Jonic, Altin Kadrija, Ibrahima Kandji, Naser Kermeni, Marco Lauretta, Carmelo Dino Lentinello, Wei Lin, Luca Lupo, Matteo
Macchiarelli, Gentian Makshia, Antonino Mammino, Angelo Maresca, Fatmir Marku, Gianluca Matera, Massimiliano Mazzoni, Gaspare Mejri, Hidalgo Luis Anibal Mena, Raffaele Nolis, Edmond Parubi, Anton Pernoj, Luciano Petraroli, Alessandro Praticò, Armando Principe, Angelo Privitera, Gennaro Rapprese, Hamadi Rezeg, Antonino Romeo, Franco Salernitano, Michele Salerno, Danilo Schina, Vitaly Skripeliov, Roberto Spagnuolo, Massimo Terracciano, Domenico Tudisco, David Tuttolomondo, Alberto Vanacore, Danilo Vecchio, Alessandro Ventriglia, Giuseppe Venuto, Qin Hai Weng, Jian Dong Ye, Antonio Zambo
Our most heartfelt thanks go to Mariya Vovk, Luca Marrocco e Giancarlo Baronti for their precious and unique help.
An everlasting thought and thanks also to Renzo Graziani, Franco Quadri, Piera Rolandi and Don Vincenzo Guttadaura for their friendship, their attention and their support.
Prison of Volterra
21st-25th july, 3 p.m.