SAINT GENET
When:
26 July 2014 @ 21:30 – 23:00
VolterraTeatro/Carte Blanche-Centro Nazionale Teatro e Carcere – Tieffe Teatro Menotti – Comune di Volterra – Regione Toscana – Provincia di Pisa – MiBACT-Ministero dei Beni e delle Attivita' Culturali e del Turismo – Ministero della Giustizia Casa di Reclusione di Volterra – Fondazione Cassa di Risparmio di Volterra
national premiere
Compagnia della Fortezza
SANTO GENET
inspired by Jean Genet
drama and direction Armando Punzo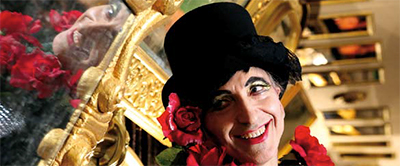 For the second year, the Compagnia della Fortezza continues to walk through the work of Genet, a French author whose words have turned vile matter into gold, imagining chains as flower necklaces,the  beauty where there was the horror.
The work of the Compagnia offers a frontal staging, to transpose that very rarefied atmosphere within the space of the Italian theatre, creating some sort of sanctuary where people celebrate both the funeral of the Real and the baptism of the Possible.
Volterra – Persio Flacco Theatre
26th july 9.30 p.m.